On Monday, April 15, 2019, Dr William Tan returns as a wheelchair athlete in the Boston Marathon. He has been participating in this race for 17 years, and is a worldclass athlete, setting records on different continents during his lifetime.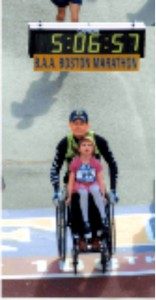 The Doktor family's connection to the Boston Marathon goes back to 2002, the first year that Dr William Tan, a wheelchair athlete from Singapore, partnered with Jessica Doktor to compete in the Marathon and raise funds for Childrens Hospital Boston. He continued to race every year, and notably carried Jessie across the finish line on his lap in his regular push chair one year.  He shared his medals with Jessie and her sister Sarah.
Ironically, Dr. Tan was diagnosed with leukemia, and spent time undergoing chemo, radiation and a successful bone marrow transplant, before once more returning to the United States for several years to compete again in the Marathon. He continues to participate, in part, to draw attention to and raise funds and awareness for Bright Happy Power!
Other athletes have also raced in honor of and memory of Jessie, raising funds for Mass General Hospital and Dana Farber as well as Childrens Hospital boston.